$29.99
Regular price
$0.00
Sale price
Unit price
per
Sale
Sold out

We understand that calling a locksmith and getting your door unlocked is a tedious process altogether and can result in hogging up a lot of your time. 
However, with Lock Pick Auto Extractor you can now open most pin and tumbler locks as well as many keyed padlocks in seconds without any outside help whatsoever. 
It contains a strong spring which can unlock a jammed door as well. This will save you a lot of time without having to wait for the locksmith to arrive.
This bump key is compact and has a pocketable design hence you can carry it with yourself in your bag or keep it in your car without it taking up a lot of your space. Either way, it'll always come in handy when you happen to get locked out of your place. 
FEATURES:
Never get locked out again: The snap gun comes with strong metal pins so all you need to do is place the pin inside the lock and hold the lock pick gun above it to get started. Then, pull the trigger and the needles will flick at the pins unlocking your door in no time.
You'll Never have to call a Locksmith again: Lock Pick Auto Extractor is semi-automatic hence it is easy to use, even if you are not a professional. It is designed to be beginner friendly where you can quickly insert it into a lock and with the rapid pull of the trigger, you can activate all of the pins at once.
Opens Multiple Locks Easily: You can use this tool to unlock different types of pin tumbler locks. Whether you got locked out of the office or your home, Lock Pick Auto Extractor will come to the rescue.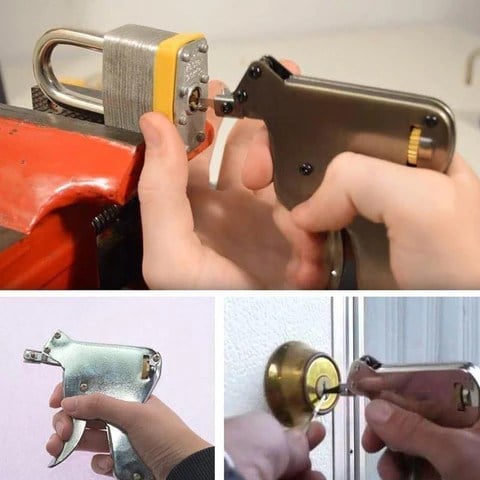 Convenient: This snap gun can be an extremely valuable tool for professionals who have to open many similar locks regularly, but who don't have the time or interest in learning manual lock picking and manipulation.
Premium Quality Material: It is made with high-quality stainless steel with a lacquer coating on the surface of the gun that helps resist stain and rust.
https://cdn.techcloudly.com/image/2022/11/b4dea0577ea7aa547ca4a7f8119690c999fbdd84d66afbdafef8b26bc3432fbe.png
Lock Pick Tool:

1. This lock pick tool can be used to open most of pin tumbler locks, double track car locks.
2. It comes complete with 4 pick blades and 1 tension wrench.
3. With strong jump head and big adjustable extent.
4. A convenient tool special designed for locksmith or lock picks hobby's need.
Color : Silver
Material : High Quality Steel
Dimensions : 4.5 in x 4.5 in x 0.8 in (11.5 cm x 11.5 cm x2 cm )


5 In 1 Credit Card and 3PCS Torsion Tools:
1. 100% brand new and high quality. The lock opener tools set
2. 5pcs lock picks training tool (in 1pc x credit card designed case) Comes with a credit card design ed case for storage and easy carrying.
3. Perfect for locksmith practice training skill.
Product color: Silver
Material: Metal
Lock pick size: about 7.3 x 1.2 x 0.2cm (1pc)
Please NOTE: the 5pcs lock picks are hidden in the credit card designed case.


6pcs Padlock Shim Picks Set:
Padlock shims are formed pieces of thin yet stiff metal designed to take advantage of mechanical imperfections and tolerances in the latching design of some popular brands/models of locks. In other words, padlock shims are a bypass tool, not a pick.
An easy way to open many padlocks is to utilize Padlock Shims; It made of very thin spring steel, our padlock shims come in several sizes to fit the contour of the hasp of the lock.
Just push one down between the hasp and the body of the lock and twist to disengage the locking mechanism. Pretty slick !
Package included:
1 x Credit Card +5 x High Quality Pick Hook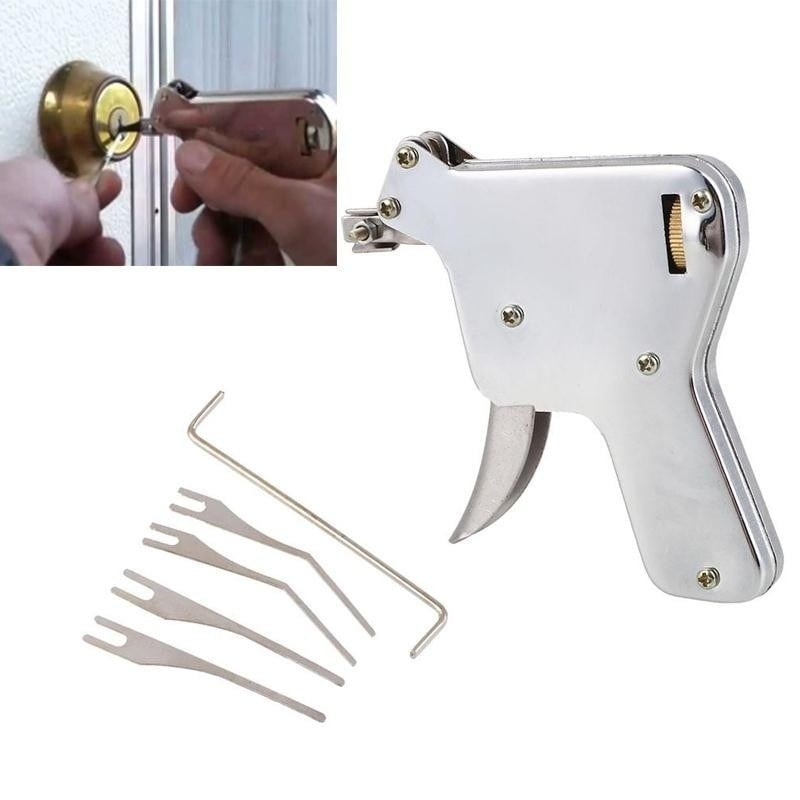 🎁💐 Don't forget to get some for your family and friends as it's an unique gift idea.

More Details