$11.59
Regular price
$22.99
Sale price
Unit price
per
Sale
Sold out

Your best love the car is not eye-catching, that isn't handsome enough!  
Just attach an LED to your wheel that can cut through the silence of the night and become the light that passes through the darkness.

▶ Cool Hot Wheels Design
Install this LED tire light on your ordinary car, let your car shine a light in the dark, the four luminous wheels are like driving in outer space, it can work continuously for 700 hours and give you the most dreamy experience.
▶ Safety
Our bike lights increase visibility at night and in bad weather for safety. In bad weather, it can even play a warning role, and the safety factor will be greatly improved!
▶ Single Induction Vibration Function
This LED wheel light is activated by motion, lights turn on when moving; off when stopped. The LED value bike light is a single induction vibration type, lights are extra bright when the wheel is turning.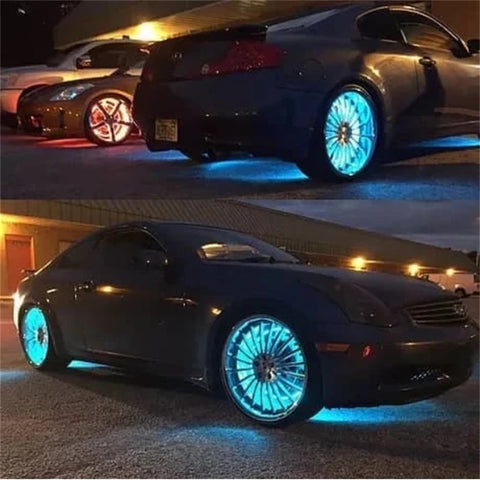 ▶ Waterproof & Portable
Our Bike Tire Value Lights have been tested for water resistance. Don't worry about the bicycle wheel light being damaged when riding in the rain, suitable for all kinds of weather. Small size is more convenient to carry.
▶ Easy To Install
As shown, this value light can be easily installed and removed in seconds, just remove the original type value cap and put it in the LED light.
Enjoy the super-bright, energy-saving, long life of LED. (Note: Please tighten the bicycle when installing to avoid being stolen)
Color: red,blue,yellow,green
Battery: 3 AG10 button battery
Fits for: Bike, Motorcycle,Car

Weight: 32g
Size: 12*6.7*2(cm)
PACKAGE INCLUDE: 
1 / 4 / 10 x Premium Led Wheel Lights
Power Supply:
Battery (Powered By AG10 Batteries / Button Battery)
Low Battery? No worries. The battery is easy to replace as it's the same as the battery of watches.
Notice: 
The battery must be positive down when installing, Do not remove the insulating plastic sheet inside the lamp case, which is used to prevent short-circuiting of the battery and the lamp shell.
More Details