$19.99
Regular price
$44.99
Sale price
Unit price
per
Sale
Sold out

Loud Snoring While Sleeping?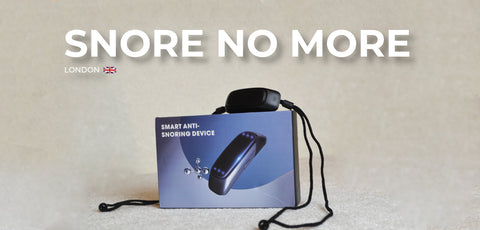 Not being able to fall asleep due to annoying noise at night is not uncommon and it is statistically proven that 60% of adult in the United Kingdom snore.
This unbearable noise can not only put a strain on relationships but has also meant the end for some marriages.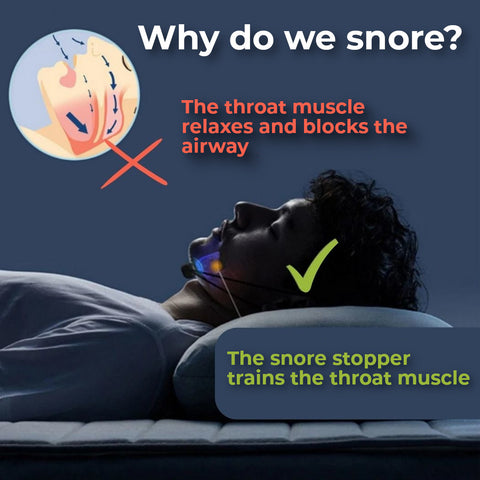 Surely, you have already tried various ways to escape the noise at night, however, other products do not solve the cause of snoring but only the symptoms.
To prevent snoring at the root cause, you only need this SnoreStopping with highly sensitive sensors. Because it not only allows your partner to sleep peacefully but also does not disturb you at night.


Why do 1,100+ customers love the "SnoreStopping"?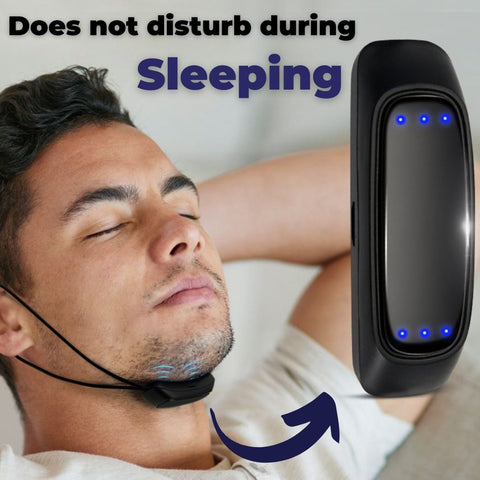 Take away your partner's pesky earplugs in the future, because the SnoreStopping:
✓ Clears snoring once and for all
✓ lets both of you fall asleep in minutes
✓ morning feeling like being born again
✓ Does not disturb during sleep
✓ No more arguments due to snoring
✓ hygienic alternative to earplugs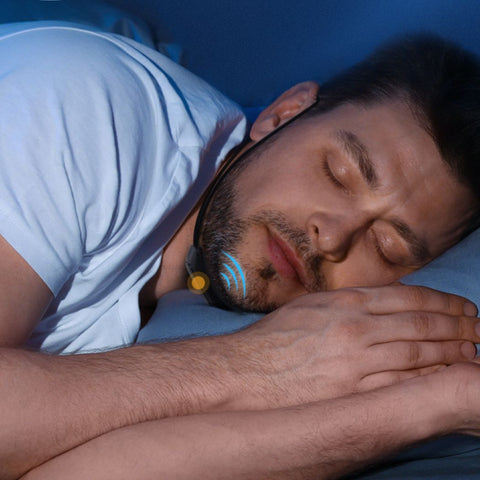 Why exactly THIS solution against snoring?
Unlike other devices that only alleviate symptoms discomfortly like a splint and do not fight snoring at the root cause, the snore stopper is unique in its development.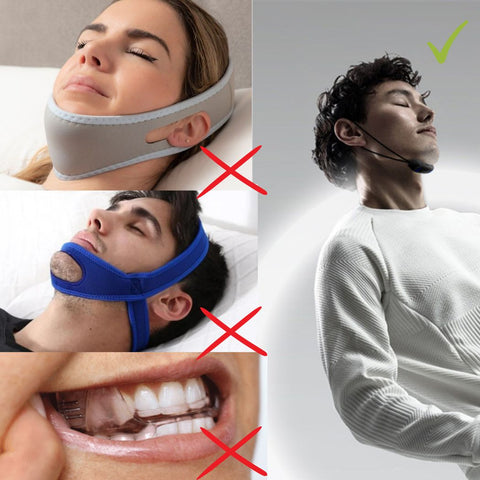 We have invested more development time to fight snoring at the root cause, so that you can enjoy quiet sleep again in the long term without our snore stopper after a period of time.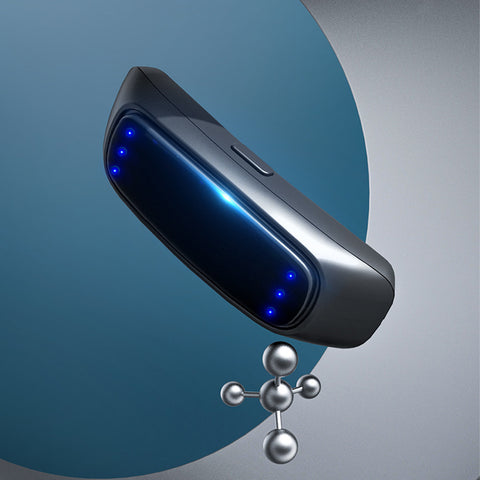 What do experts say?
MR. Harry Powell: Areas of Special Interest: Sore throats and swallowing problems says:
"Restful sleep is essential for the human organism. Those who do not sleep well suffer from a range of symptoms...".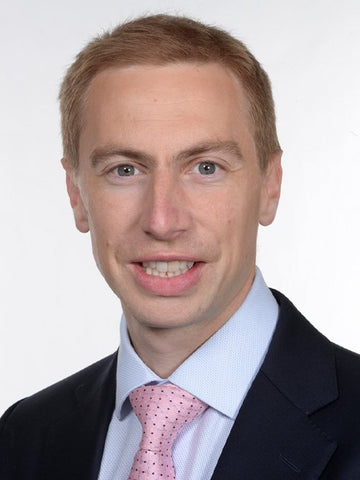 How does the "SnoreStopper" work?
The snore stopper automatically detects snoring through highly precise sensors using AI technology.

It massages the hypoglossal nerve and jaw muscle group in the correct places by means of vibration impulses with different frequencies to promote muscle toning

In addition, this technology ensures easier breathing, which leads to a more restful and peaceful sleep.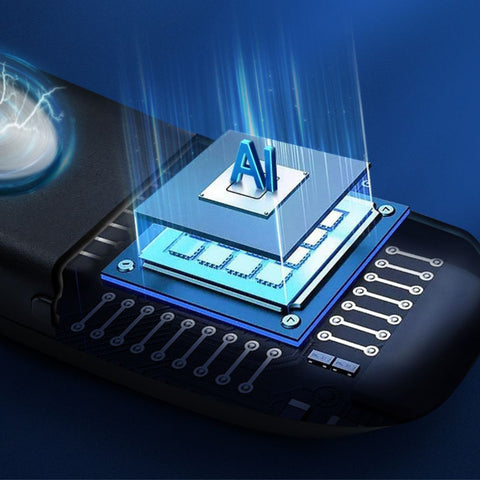 After 1-2 weeks, sleep will be deeper and more peaceful without snoring.
After 30 days, the body begins to learn from the vibration impulses for better breathing.

After 2 months, your body has adapted, now you can stop using the product and you will no longer snore even without the product.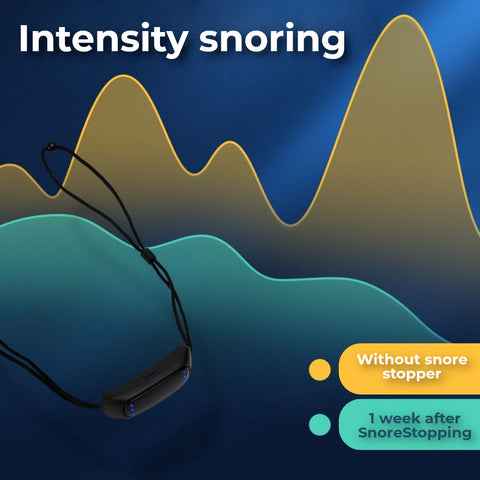 The easy to use application in 3 steps
The application is easy as pie:
1. Charge the SnoreStopping once for 2 hours with the included USB cable.

2. Place the holder around your ears and position the device between your chin and neck.
3. Turn on the device using the side "ON" switch and choose between 6 different intensities
The device will take care of the rest automatically during the night.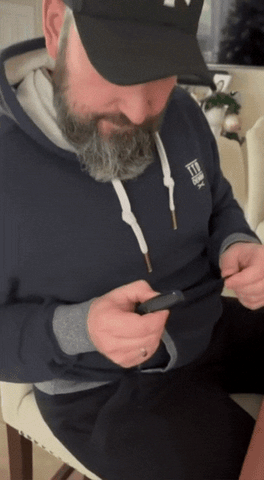 What makes the "SnoreStopping" special?
✓ Solves snoring at the root cause
✓ Reusable (with included USB charging cable)
✓ remain snore-free even without the device
✓ Never snore again in the long term
✓ without slipping
✓ You don't notice it at night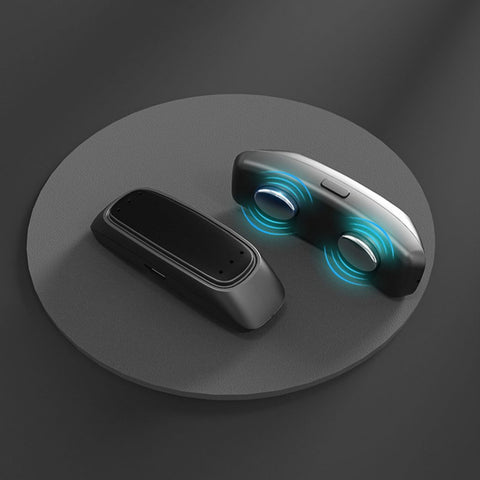 Frequently Asked Questions
How can I contact SnoreStopping?
You can send us an email at info@luckyeo.com and our customer service team will be happy to assist you with anything you need!
What if the items I received are defective/wrong/damaged?
Please contact us if you received incorrect, damaged, or defective items and we will provide a solution for you.
What forms of payment do you accept?
We accept all major credit cards (VISA, Mastercard, AMEX), PayPal payments, as well as Klarna, SOFORT, Google Pay, and Apple Pay.
When will my order be processed?
All orders are processed and shipped from our warehouse. Please allow for extra time for processing during holidays and sale seasons. We process orders between Monday and Friday. Orders are processed within 3-5 business days from the date of purchase and shipped the next day after processing. Please note that we do not ship on weekends.
How long will it take for me to receive my order?
Due to high demand, delivery takes 7-14 days. After placing your order, please allow 72 hours for processing.
What if I don't receive my order?
If you don't receive your order within 40 days, you are entitled to a full refund.
How do I return an item?
Please contact us at info@luckyeo.com
Can I track my order?
We ship orders exclusively with a tracking number. You can enter this number under the "Track Order" menu and see where your package is. If you have any questions, you can reach us at info@luckyeo.com.

Notice! Please do not use in conjunction with pacemakers, for heart and circulatory problems, or during pregnancy.
Get free shipping now and your order will be processed today before 11 PM! Get your sleep back.
 
More Details