$15.99
Regular price
$0.00
Sale price
Unit price
per
Sale
Sold out

Do you still look at the home tile sewing yellow, black and moldy, which is not only not beautiful but also harmful to health, quick use of waterproof sealant to easily solve, simple to start, free operation. Strong adhesive force, high elastic molding, give your home to do a beauty!
Product description
Bright as porcelain
Can cover dirty cement mud stains, make it look new. Paint and recolor tile gaps for a bright, clean look., And give you a quality of life.
Waterproof, moistureproof and permeable
Once cured, it won't change color, It creates a protective and waterproof seal that keeps out mold and mildew, with antifungal nature. It's made to last and widely applicable on your tiles, sink, toilets and more. It comes in different colors to meet your needs.
Environmental protection material, formaldehyde free
Health detection, environmental protection and non-toxic. No formaldehyde, no odor, zero distance contact with skin. Water resistant pre mixed compound grouts all ceramic and mosaic tile. Formulated with premium acrylic latex for fast, easy to use application.
Excellent adhesion and durability
Permanently attached to all types of ceramic and Mosaic tiles, ready to adhere to tile, masonry, wood and wallboard.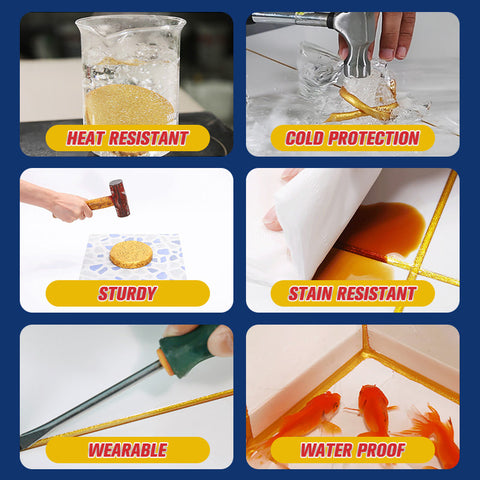 Strong product control, strong anti-fouling
Our sealant can be hit by a hammer without any trace or deformation. Easy to clean and easy to take care of, not easy to hide dirt, a light rub on the bright as new. Give you the cleanest home experience every day.
Low temperature resistance, high temperature resistance

After experiencing cryogenic freezing, it is still as hard as ceramic tile, and it is extremely strong in freezing resistance. In 100℃ boiling water, no cracking and deformation, can suffer unimaginable high temperature.
Be widely used
It is not only very suitable for bathroom, kitchen and any other floor tiles and ceiling, but also for bathtub tiles, washbasin, toilet toilet tiles, balcony sink, porch tiles, corridor tiles and other cracks in the landscape. Use sealant to freshen up any mildew or damp crevices.
Working principle:
1. The quick drying.
2. Permanent on most surfaces.
3. Ideal for unventilated workspaces.

Specifications
Color: Shining sealant: gold, silver, white, yellow, black
Size: 100 ml
Construction temperature: 5℃~35℃
Shelf life: 18 months at room temperature
The products include
1/*100ml X tile sealant /1*Glass Glue Angle Scraper
More Details